Dentures – Norwood, MA
Providing Complete Smiles to Those in Need
Individuals with missing teeth have various options to choose from these days when it comes to replacing their pearly whites. For those who prefer a safe, reliable and less invasive solution, the team at Norwood Dental Care can provide dentures in Norwood. These tried and true prosthetics have been around for centuries, helping individuals regain their aesthetics and confidence. Using only the best materials and advanced technology, we can give you the results you want and the boost in self-esteem you need to land that job, feel good about your upcoming blind date, or look your best at your company's annual gala. Schedule an appointment with us today to find out more about replacing your missing teeth with dentures.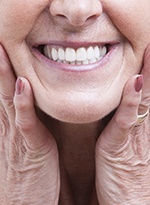 What Are Dentures?
Traditional dentures come in two forms: partial and full dentures. Both are created using a gum-colored, acrylic or metal base. Artificial teeth are then created and set within the base to create a natural, completed smile.
Partial dentures work much like a puzzle piece in that they can restore your arch even when teeth are not consecutively missing. The prosthetic is placed onto the arch using clasps or clips that attach to your healthy teeth.
Full dentures are designed either to cover the palate of your mouth (top) or in the shape of a horseshoe to make room for your tongue (bottom). Your natural suction helps to hold them into place, though many people opt for a dental adhesive to add another layer of security.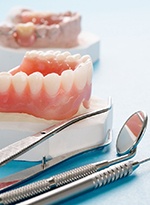 What Are the Benefits of Dentures?
Not only are dentures one of the most reliable restorations available, but they've been proving their worth for centuries. Even George Washington wore them! Granted, no one is using wooden dentures anymore, but they have evolved over the years to give patients an opportunity for a healthy, beautiful smile that is achievable without surgery.
The benefits of dentures include:
Increased functionality in your ability to speak, chew, and eat
Natural in appearance
More affordable than dental implants
Designed to help avoid the potential for orthodontic issues by keeping healthy teeth in place
Quick to create and place
Non-invasive
Allows you to keep your current facial shape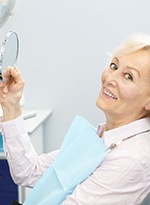 Caring for Dentures
When receiving dentures, your dentist in Norwood will provide detailed instructions regarding how to care for your new smile. These comfortable and effective restorations can last years if properly cared for, so it's important you abide by these rules:
Brush your dentures at least once a day
When finished eating, make sure to remove your dentures and rinse them off before reinserting them
Before reinserting your dentures, brush your remaining teeth, tongue, and gums
While sleeping, soak your dentures overnight in a designated denture cleaner
Place a towel in the basin of your sink to protect against accidentally breaking your dentures
Avoid using toothpaste, as this is too abrasive and can scratch the material
Avoid exposing your dentures to hot water or extreme heat, as these can warp the materials
Keep your regular dental appointments with us so that we can check on your restoration to make sure everything is still fitting correctly