Dentures – Norwood, MA
Providing Complete Smiles to Those in Need
Individuals with missing teeth have various options to choose from these days when it comes to replacing their pearly whites. For those who prefer a safe, reliable and less invasive solution, the team at Norwood Dental Care can provide dentures in Norwood. These tried and true prosthetics have been around for centuries, helping individuals regain their aesthetics and confidence. Using only the best materials and advanced technology, we can give you the results you want and the boost in self-esteem you need to land that job, feel good about your upcoming blind date, or look your best at your company's annual gala. Schedule an appointment with us today to find out more about replacing your missing teeth with dentures.
Who's a Good Candidate for Dentures?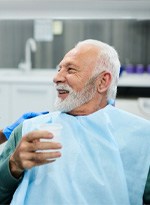 Believe it or not, virtually anyone can get dentures in Norwood! It doesn't really matter how many teeth you're missing. However, you should still schedule a consultation with our team at Norwood Dental Care to determine your eligibility. We'll assess your oral health and decide if dentures are suitable for you. In cases where you may not initially qualify, there's a possibility of becoming eligible by improving the health of your smile through appropriate dental treatments.
Effects of Missing Teeth
Missing teeth can be attributed to various factors such as tooth decay, gum disease, and physical injuries. Tooth decay, resulting from poor oral hygiene or untreated cavities, can weaken the tooth structure to the point of extraction. Gum disease, characterized by infection and inflammation of the gums, can lead to tooth loss due to the deterioration of the supporting tissues. Injuries or accidents that result in dental trauma can also cause teeth to be knocked out.
Failing to replace your missing teeth can have detrimental effects like facial sagging and difficulty speaking. Chewing and eating can also become challenging, leading to dietary restrictions and nutritional deficiencies.
What Qualifies You for Dentures?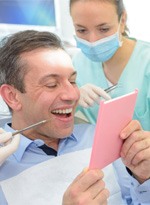 Dentures are an excellent solution for patients with extensive tooth loss, tooth sensitivity, significant decay, and adequate gum tissue and jawbone support. Successful denture wearers must be committed to maintaining their dental health and demonstrate a willingness to care for their dentures and oral hygiene.
The type of denture that suits you best will depend on the extent of tooth loss. Options include full dentures, partial dentures, implant dentures, and immediate dentures. Dentures are a cost-effective tooth-replacement method, making them an appealing choice for budget-conscious patients.
Alternative Tooth-Replacement Options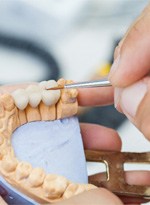 If you're not a suitable candidate for dentures, you can explore alternative tooth-replacement options like dental bridges or implants. Let's take a closer look at each solution:
Dental Bridges – This is an ideal solution for those missing one or a few teeth. They rely on healthy adjacent teeth to support the bridge structure, providing a seamless replacement.
Dental Implants – These involve the insertion of a titanium post into the jawbone, making them a permanent and sturdy option. However, patients considering implants should have a strong bone structure to support the implant securely. While dental implants may involve a higher cost compared to traditional dentures, they offer long-lasting results.
<Learn More About Dental Implants>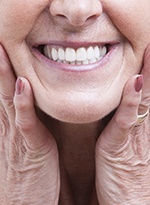 What Are Dentures?
Traditional dentures come in two forms: partial and full dentures. Both are created using a gum-colored, acrylic or metal base. Artificial teeth are then created and set within the base to create a natural, completed smile.
Partial dentures work much like a puzzle piece in that they can restore your arch even when teeth are not consecutively missing. The prosthetic is placed onto the arch using clasps or clips that attach to your healthy teeth.
Full dentures are designed either to cover the palate of your mouth (top) or in the shape of a horseshoe to make room for your tongue (bottom). Your natural suction helps to hold them into place, though many people opt for a dental adhesive to add another layer of security.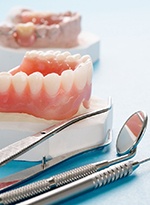 What Are the Benefits of Dentures?
Not only are dentures one of the most reliable restorations available, but they've been proving their worth for centuries. Even George Washington wore them! Granted, no one is using wooden dentures anymore, but they have evolved over the years to give patients an opportunity for a healthy, beautiful smile that is achievable without surgery.
The benefits of dentures include:
Increased functionality in your ability to speak, chew, and eat
Natural in appearance
More affordable than dental implants
Designed to help avoid the potential for orthodontic issues by keeping healthy teeth in place
Quick to create and place
Non-invasive
Allows you to keep your current facial shape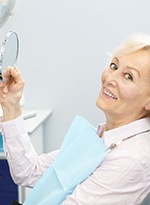 Caring for Dentures
When receiving dentures, your dentist in Norwood will provide detailed instructions regarding how to care for your new smile. These comfortable and effective restorations can last years if properly cared for, so it's important you abide by these rules:
Brush your dentures at least once a day
When finished eating, make sure to remove your dentures and rinse them off before reinserting them
Before reinserting your dentures, brush your remaining teeth, tongue, and gums
While sleeping, soak your dentures overnight in a designated denture cleaner
Place a towel in the basin of your sink to protect against accidentally breaking your dentures
Avoid using toothpaste, as this is too abrasive and can scratch the material
Avoid exposing your dentures to hot water or extreme heat, as these can warp the materials
Keep your regular dental appointments with us so that we can check on your restoration to make sure everything is still fitting correctly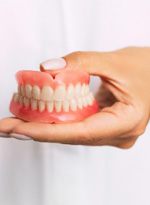 Dentures Aftercare
Dentures will transform the appearance and function of your smile. However, even if you don't have any remaining natural teeth, you should still head to the dentist for regular checkups. Your dentist will continue to monitor any existing teeth and gum tissue. They will also keep an eye out for any abnormalities that could indicate oral cancer. When you have dentures, it is very difficult to notice these changes on your own. Early detection is key for making a full recovery.
Remove After Eating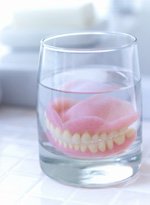 After every meal, remove and rinse your dentures. This will help to prevent buildups of food debris and plaque. Don't use hot water because the heat can warp the denture material and cause them not to fit properly.
Don't meet the criteria above? That's okay! You could still get dental implants by completing certain preliminary treatments (i.e., tooth extractions, gum disease therapy, bone grafting). Our team will help you schedule these procedures to get you on track toward a newly rebuilt smile!
Clean Your Restoration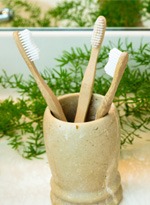 To clean your dentures, take them out of your mouth first. Use a small amount of unscented hand soap, mild dish soap, or denture cleanser and a soft-bristled toothbrush. You shouldn't use regular toothpaste because it is too abrasive for the materials your denture is made from. If you aren't going to be wearing your dentures again right away, place them in a container of water or denture-cleansing solution so they don't dry out and lose their shape. Remember to always rinse your denture thoroughly before putting them back into your mouth.
Keep Your Dentures Safe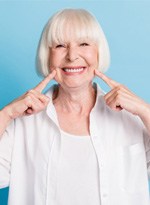 When you clean your dentures, you may want to place a towel underneath you just in case you accidentally drop them. This will reduce the probability of your dentures becoming damaged. Keep your dentures in a place where small children and pets cannot get to.
Remove When You Sleep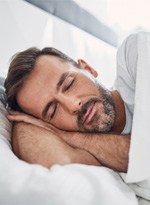 Take your dentures out at night when you go to bed. Wearing dentures restricts the circulation in your gums, leading to soft-tissue irritation. Sleeping with dentures has also been associated with a higher risk of pneumonia. Keep your dentures in a solution overnight so they don't dry out and lose their shape.
Notice Changes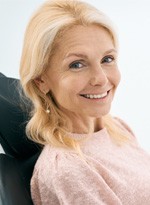 Be on the lookout for changes so you can address them with your dentist. This includes sores in the mouth, gum irritation, and signs of infection. If your denture becomes damaged, give us a call instead of trying to repair it yourself. For dentures that are shifting, clicking, or not fitting right, let us know. This way, we can make the necessary adjustments to ensure that your smile is perfectly comfortable.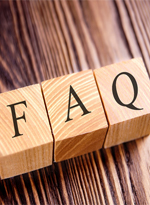 Dentures FAQs
At Norwood Dental Care, we understand that losing teeth and living without a complete smile can be stressful and unpleasant. That is why we want to make choosing a tooth replacement solution as easy as possible! To that end, our expert team has collected the most common questions we hear regarding partial and full dentures in Norwood and answered them below.
If you do not see your specific concern addressed in this FAQ section, please do not hesitate to contact us online or give our office a call to schedule an initial consultation with Dr. John Michaels or Dr. David Michaels.
How Long Do Dentures Last?
Full and partial dentures are an excellent way to replace missing teeth but, like any dental prosthetic, they do need to be replaced periodically due to gradual wear and tear and staining. On average, men and women who wear dentures get a new set of replacement teeth every 5 to 7 years. Even if your dentures do not need replacement, it is important to schedule regular dental checkups with a dentist in Norwood. Your mouth changes as you get older, so your dentist may need to adjust your dentures every now and then to ensure a proper fit.
Can Partial Dentures Match the Color of My Natural Teeth?
Yes! Drs. John and David Michaels are highly trained and have many years of experience in the art of color and shade matching. He will work carefully to produce a partial denture that not only fits your mouth perfectly but also blends in seamlessly with the surrounding natural teeth.
Will I Be Able to Eat My Favorite Foods with Dentures?
While no two patients are exactly alike, you may need to make some slight adjustments to your diet to avoid damaging your newly restored smile. However, you will most certainly find it easier to eat your favorite foods while wearing dentures compared to eating while missing many teeth.
Here is a quick review of how the most common types of dentures improve dental function:
Partial dentures – Restore 30% or greater of natural chewing range.
Full traditional dentures – Restore 20% of natural chewing function on average.
Implant-retained dentures – Restore 70% of natural chewing function.
How Much Do Dentures Cost?
Dentures are widely considered one of the most affordable ways to restore an entire set of missing teeth. However, the cost of dentures varies widely based on a number of factors, such as:
The complexity of particular treatment
The amount of time required to complete treatment
The general cost of living in the community (e.g., dental fees in big cities are often higher)
The patient's dental insurance plan
The best way to get an accurate estimate on the cost of dentures in Norwood is to schedule an initial consultation with Drs. John and David Michaels at our office.
Do Dentures Cause Gagging?
Properly fitted dentures should not provoke your gag reflex. If you wear dentures and often experience gagging, this may be due to one of several reasons:
Loose dentures that shift and touch your tongue or parts of the throat
Oversized dentures that are so big that they touch your throat more than they should
Natural jawbone shrinkage due to tooth loss
For any of these situations, applying denture adhesive may help keep your dentures in place and prevent gagging. However, if problems persist, you should contact Drs. John and David Michaels to evaluate and potentially resize your dental prosthetic.