Dental Implant Failure and Salvage – Norwood, MA
Is There a Problem with Your Restored Smile?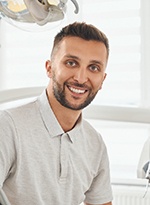 Dental implants are known for their longevity, and they have a 95% success rate even in the long term. However, it's still important for every patient to be aware of the signs of dental implant failure so that they can act quickly if a problem occurs. As soon as you notice concerning symptoms that could point to a problem with your new teeth, give our team at Norwood Dental Care a call; we'll help you identify the issue and figure out the best way to protect your oral health.
Why Choose Norwood Dental Care for Dental Implant Salvage?
Experienced Father-and-Son Dental Team
Conveniently Located, Comfortable Practice
Affordable Dental Financing Options Available
Why Do Dental Implants Fail?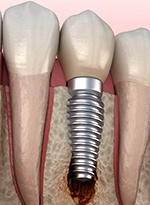 Dental implants often fail due to peri-implantitis, which is a type of gum disease where the tissue around the implant post becomes infected. As these tissues deteriorate, they can gradually lose their ability to support the implant post, which may eventually come loose or even fall out of the mouth entirely. There are a number of risk factors for peri-implantitis, but the most common one is making oversights in your oral hygiene routine.
Dental implants can also fail if osseointegration never occurs or if you suffer physical trauma to the face or jaw. Regardless of the reason for failure, you should seek help from a professional right away; leaving the problem alone will only give it a chance to grow worse.
Symptoms of Failed Dental Implants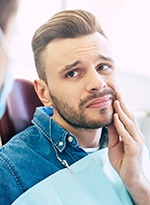 Sometimes dental implants fail shortly after they're placed. In other cases, they can stay in the mouth for years or even decades before problems arise. Whether your implant failure occurs early or late, you are likely to notice similar symptoms, such as:
Unusual pain that lasts longer or is more intense than what is normal after implant placement surgery.
An implant post that feels loose. (Sometimes it may be just the restoration that's loose, but you should still schedule an appointment to have it checked as soon as possible.)
Any bleeding or swelling, which can potentially point to an infection.
Having trouble chewing with your dental implants.
How Dental Implant Salvage Works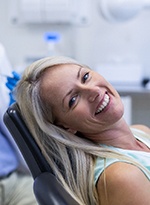 As soon as you think there's a problem with your dental implant posts, you simply need to give our office a call. Once you arrive at our office, we will carefully examine your mouth, gather information about your symptoms and review your treatment options. Depending on the circumstance, it may be possible to treat your oral health issues while leaving your dental implants in your jaw. If the implants have been damaged, we might have to remove them, but it may be possible to place new ones after your oral health has been restored.