April 10, 2019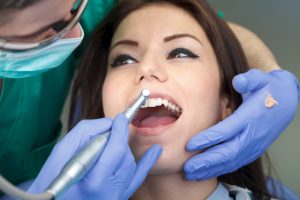 When you go to your dentist in Norwood for your checkup and cleaning appointment, you get some shocking news—you have gingivitis! Luckily, because gingivitis is just the early stage of gum disease, your dentist can get rid of the problem fairly easily. In this post, learn more about this condition, what your dentist can do to restore you to full oral health and what you can do to prevent it from coming back in the future.
What does gingivitis look like?
You don't have to be a dental professional to recognize some of the early signs of gum disease, an inflammatory condition that can have serious consequences if left untreated. When gum disease first starts out as gingivitis, your gums can become swollen and red and can easily bleed when you brush or floss. That's because the bacteria in plaque has accumulated near the gumline and produced toxins that irritate the gums. At this point, gum disease can be reversed through simple methods with your dentist. However, if you're not paying attention or choose to ignore the symptoms, gum disease can progress to periodontitis, in which your gums pull away from the teeth and the infection can spread to your teeth's supporting tissue and bone. Eventually, gum disease can lead to tooth loss and permanent loss of the bone.
How can your dentist treat gingivitis?
The only way to eradicate gum disease is to remove the plaque and tartar that house the harmful bacteria causing the infection. Once plaque has hardened into place, it is very difficult to clean away on your own, which is why you need professional help. Basically, if you've caught gum disease at the gingivitis stage, you can breathe a little easier knowing that your dentist can address the issue without resorting to invasive measures. In many cases, a routine cleaning can remove the built-up plaque and  tartar from above and below the gumline and reverse the damage done to your gums. In addition, your dentist can recommend any repairs to vulnerable areas that facilitate gingivitis returning in the future.
How can you prevent gingivitis?
Believe it or not, you can do quite a bit to make sure that gingivitis doesn't come back. First, make sure you're maintaining healthy daily oral habits, specifically brushing at least twice and flossing at least once. In addition, you need to continue going to the dentist twice a year for that checkup and cleaning appointment to catch those spots where you might have missed plaque on your own. If you'd like even more protection, you can do the following:
Consume less sugar.
Drink more water.
Use an antibacterial mouthwash.
To ensure your long-term oral health, you need to involve your dentist in Norwood on a semiannual basis. They can identify and treat gingivitis while it is still a small problem, which is much better than waiting and needing to use more drastic, extensive treatment to address a big problem later. If you think you have gingivitis or if it has been a while since your last checkup, contact your dentist for an appointment to get your oral health back on track.
About the Author
Over the course of his career, Dr. John Michaels has completed over 1,000 hours of advanced continuing education training in many topics, including cosmetics, implants, periodontics, orthodontics, and endodontics, allowing him to meet nearly every dental need that his patients can have. At Norwood Dental Care, he and his staff emphasize the importance of preventive care and catching oral problems as early as possible for the best outcomes. To schedule an appointment with him, call (781) 769-6140 or click here.
Comments Off

on How Your Dentist in Norwood Treats Gingivitis
No Comments
No comments yet.
RSS feed for comments on this post.
Sorry, the comment form is closed at this time.