June 17, 2019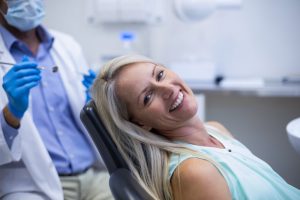 When you think about the dentist, the first thing that you picture is probably teeth. However, your dentist in Norwood also has the important job of ensuring that your gums are healthy. Around 80% of US citizens are affected by some form of gum disease in their lives, making it an incredibly common problem. However, many people don't know that it can actually permanently damage your gums and bone, and it can even cause tooth loss. Keep reading to learn more about gum disease and why it can lead to missing teeth.
What is Gum Disease?
Gum disease is an inflammation or infection of the gums. It's usually caused by poor oral hygiene that allows plaque and bacteria to buildup up along the gumline. There are different stages of gum disease, and if it's caught early on, it can be completely reversed. However, prolonged treatment for gum disease can result in serious oral and overall health issues.
Unfortunately, research continues to pile up showing that gum disease has even more serious affects. Studies have shown that this disease can increase your risk of heart-related issues like cardiovascular disease by 20%. It can also increase your risk of problems like stroke, certain cancers, and even Alzheimer's, which is another reason why it's important to understand this disease and its effects.
How Can Gum Disease Affect My Teeth?
If gum disease is left untreated, the infection will begin to create deep pockets below your teeth, which serves as a perfect home for more plaque and bacteria. This will eventually permanently damage your gums and your jawbone, which are the main supports for your teeth. When your jawbone and gums no longer have the strength and stability to support your teeth, their likelihood of falling out grows much higher. This will mean that you're more likely to have to get dental implants or dentures down the road to replace your teeth, which will cost you time and money.
The Symptoms of Gum Disease
Thankfully, all of these serious problems can be prevented if you can recognize the symptoms of this disease early on. While some cases of gum disease can go easily unnoticed, it's important that you're able to recognize these common warning signs:
Tender or red gums
Sensitive or puffy gums
Gums that bleed when brushing and flossing
Teeth that appear longer
Persistent bad breath
Changes in your bite
If any of these symptoms sound familiar or you have questions about gum disease, contact your dentist in Norwood to ensure that your oral health is in tip-top shape.
Meet the Dentist
Dr. John T. Michaels is an experienced dentist with a passion for providing quality care for his patients. His practice, Norwood Dental Care, has been voted the region's best dental office from 2003-2017. For any questions about gum disease and your treatment options, he can be reached through his website or by phone at (781) 769-6140.
Comments Off

on Can Gum Disease Lead to Tooth Loss? A Dentist in Norwood Has Answer
No Comments
No comments yet.
RSS feed for comments on this post.
Sorry, the comment form is closed at this time.