July 8, 2019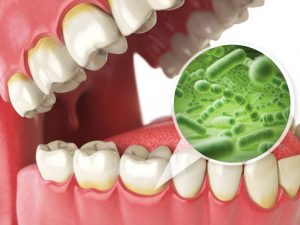 You may be surprised to know that plaque forms from day to day and can harden within just 24 to 72 hours. So, after just one exhausting night where you decide to postpone brushing and flossing, it could open the door to developing symptoms of gum disease. Even if you brush and floss regularly, routine visits with a dentist in Norwood can help ward off serious overall and oral health problems. Gum disease is known to start with plaque buildup, which causes an increase in harmful oral bacteria. Read on to learn what causes plaque buildup and how something seemingly small can cause gum disease.
How Does Plaque Build Up?
Plaque is caused by a mixture of oral substances like food particles, fluids, and saliva. The combination of these items that makes up plaque helps feed harmful oral bacteria by creating sugars and carbohydrates. These bacteria collect around teeth and the gum line when they're not regularly removed by brushing and flossing.
Can You See Plaque Buildup?
When you inspect your teeth, do you notice a pale-yellow tint covering them? Plaque can also be unnoticeable and colorless, sometimes making it virtually impossible to recognize. You may be able to feel a buildup of plaque if you notice a fuzzy texture against your tongue. Because it's so hard to identify, it makes it crucial to get routine cleanings from your dentist. This way, they can clear unnoticeable problem-causing plaque from hard-to-reach nooks and crannies in your mouth that you aren't able to get to at home.
What Role Does Plaque Play In Developing Gum Disease?
Gum disease affects one in every two adults in America, so if you're beginning to notice symptoms, you're not alone. It's important to catch it early on because once this disease progresses, it becomes incurable. When plaque collects below the gum line and increases the number of harmful oral bacteria in your mouth, it can cause inflammation of the gums and progress to result in detrimental effects on your oral and overall health. Some symptoms of gum disease to look out for include:
Swollen, puffy, or tender gums.
Bleeding gums during bleeding and flossing.
Receding gums making teeth look longer.
Pockets formed between your gums and teeth.
Pockets of pus between your teeth and gums.
Chronic bad breath.
How Can You Protect Yourself From Gum Disease?
If you are experiencing any of these symptoms, it's vital to visit your dentist immediately for treatment. When you tackle gum disease in its early stages, your dentist can treat and reverse the symptoms before they progress. The best way to ward off this common oral disease is to routinely brush and floss and attend appointments every six months for professional checkups and cleanings.
Even though you may be diligent about brushing and flossing, plaque builds up quickly in the corners and cracks of your mouth, so professional cleanings are vital in preventing oral health problems. Additionally, be sure to ask your dentist for any hygiene product recommendations so you can keep your oral health in tip-top shape. You won't regret it when you have a beautiful and healthy smile decades from now!
About the Author
Dr. John Michaels has taken over 1000 hours of advanced dental education in cosmetic treatments, implants, endodontics, periodontics, and orthodontics. He takes pride in keeping up with the latest advancements in his field so he can provide his patients with the highest quality of care. He was voted Top Dentist and Dental Care on Boston Consumers' Checkbook and Norwood Dental Care has been voted the region's best dental practice from 2003 to 2017. For questions or to schedule an appointment, visit Norwood Dental Care's website or contact 781-769-6140.
Comments Off

on Connecting Plaque and Gum Disease With a Dentist in Norwood
No Comments
No comments yet.
RSS feed for comments on this post.
Sorry, the comment form is closed at this time.