September 14, 2019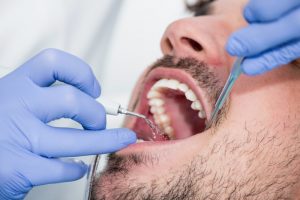 Have your teeth ever felt a little fuzzy? That fuzzy material is called plaque. It's a sticky film of bacteria that builds up on your teeth. Is there a way for you to get rid of it on your own? Regular brushing and flossing will certainly help, but only a dental professional can remove plaque from all surfaces of your teeth. It might be tempting to try and get rid of plaque yourself, but that can cause more harm than good. Here's why you shouldn't try to remove plaque by yourself.
Dangers of DIY Plaque Removal
Plaque scrapers may be widely available in stores, but that doesn't necessarily mean they're safe for you to use. They are highly specialized medical tools and it takes rigorous training to learn how to correctly and safely use them. Dental hygienists go to school for at least two years to learn how to effectively manage plaque scrapers.
Because these tools have sharp edges, using them unsupervised is not recommended. You might damage the delicate tissue of your gums. Not only that, but you could cause injuries to your tongue, lips, cheeks, and other soft tissues in your mouth. Improper use of these tools may also result in infections. You may accidentally push plaque and its hardened form, tartar, deeper into your gums, causing gum disease.
How to Safely Get Rid of Plaque
If you find yourself concerned about your level of plaque, simply visit your dentist. He or she can take a good look at your mouth and determine whether you have high levels of plaque or tartar. If so, then a licensed dental hygienist can give your teeth and gums a good cleaning.
While using a plaque scaler at home is definitely not a good idea, there are things you can do at home to keep your teeth healthy between dental visits. Be sure to brush your teeth twice a day and floss at least once a day. If you want an extra-clean mouth, just visit your dentist's office for a professional cleaning from your dental hygienist.
About the Author
Dr. John Michaels attended the Ohio State University Dental School and then opened his own practice in Norwood, MA. He has taken more than 1000 hours of continuing education in his 14 years as a dentist. His practice, Norwood Dental Care, has been voted the region's best dental practice from 2003 to 2017. To book a cleaning with one of his dental hygienists, contact Dr. Michaels at (781) 769-6140.
Comments Off

on Why You Shouldn't Try to Remove Plaque by Yourself
No Comments
No comments yet.
RSS feed for comments on this post.
Sorry, the comment form is closed at this time.