January 19, 2020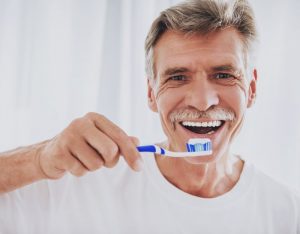 Have your gums ever felt swollen or tender to the touch? Have they ever appeared bright red instead of their usual healthy pink? What causes your gum tissue to swell? More often than not, this is a result of a condition called gum disease. But what exactly is gum disease, and how can you and your dentist in Norwood work together to prevent it? Keep reading to find out.
What Is Gum Disease?
When you neglect to brush, floss, and regularly see your dentist for cleanings, plaque builds up on your teeth and along your gumline. Eventually it hardens into a substance called tartar, which contains lots of bacteria. These bacteria then attack your gum tissue, resulting in an infection, known as periodontal (gum) disease. This is what causes your gum tissue to become red, swollen, and tender, and even bleed when you brush and floss.
How Does Your Dentist Treat Gum Disease?
This depends on the extent of your condition. If it's still in the early stage, called gingivitis, a prescription of antibiotics may be all that's needed to eliminate the excess bacteria in your mouth. However, if you have reached the later stage of gum disease, known as periodontitis, your dentist might need to perform a dental deep cleaning.
Also known as scaling and root planing, a dental deep cleaning involves numbing your gums with local anesthetic and removing bacteria from above and below your gumline. Then, your dentist will smooth out the rough edges of your tooth roots, preventing future infection by making it more difficult for bacteria to stick to the roots.
How Can You Prevent Gum Disease?
Excellent oral hygiene is one of the best ways to keep periodontal disease at bay. Be sure to brush your teeth twice a day with an ultra-soft toothbrush and toothpaste that contains fluoride. Floss between your teeth daily to remove plaque from between your teeth and along your gumline. It may help to rinse with an antibacterial mouthwash afterwards, just to reach all the areas of your mouth that your toothbrush and floss can't by themselves.
In addition, you'll want to schedule a dental checkup and cleaning twice a year, or even more often if you have a history of gum disease. At these appointments, your dentist can evaluate your gums. The dental hygienist can also give you a professional cleaning, removing built-up plaque and tartar and preventing it from causing an infection.
If you have gums that are swollen, you should see a dentist in Norwood as soon as possible. It could save you from needing costly and extensive treatment, and it might even save your teeth from falling out!
About the Author
Dr. John T. Michaels is a graduate of Ohio University's dental school. He has taken more than 1,000 hours of continuing education courses in a variety of fields, including periodontics, or the maintenance of healthy gums. His practice in Norwood, MA offers periodontal therapy to treat any gum infection you may have. To learn more, visit Dr. Michaels' website.
Comments Off

on What May Be Causing Your Swollen Gums
No Comments
No comments yet.
RSS feed for comments on this post.
Sorry, the comment form is closed at this time.