March 24, 2020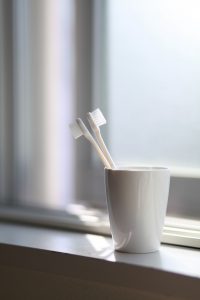 Your toothbrush is the most important tool by your side to combat common dental issues, like tooth decay and gum disease. You rely on your toothbrush to keep your smile healthy in-between visits to your dentist in Norwood. Regular brushing will cause wear and tear on your toothbrush. As a result, it's essential it's replaced often to ensure it's effective, but are you changing your toothbrush enough? Here's how often you should switch your toothbrush to keep your teeth and gums healthy.

How Often Should I Change My Toothbrush?
It's best to brush your teeth at least twice per day for 2 minutes each session to remove harmful plaque and bacteria. That means your toothbrush is going to get a lot of use. The American Dental Association recommends you replace your toothbrush as soon as the bristles are worn or every 3 months, whichever comes first. If your toothbrush shows any sign of wear, it's best to replace it because it will no longer clean your teeth effectively.
Are There Different Types of Toothbrushes?
As you walk down the oral care aisle, you'll be surrounded by a variety of toothbrushes. Among the biggest differences is whether they are manual or electric. A manual toothbrush is a tried-and-true method to clean your teeth when the correct methods are used.
Unfortunately, most people don't brush correctly, which is why an electric one is often more effective. It offers more brush strokes per minute. This can be the ideal solution if you have a habit of not brushing for 2 full minutes; however, a manual is more affordable to replace.
Whether you use a manual or electric, be sure to use the proper techniques to clean your teeth:
Apply a pea-sized amount of toothpaste to the brush.
Hold the brush at a 45-degree angle to your gumline.
Use a gentle, circular motion to clean all surfaces of your teeth.
Gently clean your tongue and the inside of your cheeks.
Which Toothbrush is Right for Me?
Choosing between a manual and an electric is a personal preference. No matter which you choose, there are other important factors to consider. When picking a toothbrush, choose one that:
Earned the American Dental Association's Seal of Acceptance.
Accommodates the size of your mouth.
Has a comfortable handle.
Has soft bristles.
Invest in a Healthy Smile
Choosing a toothbrush is one of the most important decisions you'll make for your smile, so take the time to pick the right one. Besides brushing and flossing, don't forget to visit your dentist at least twice a year for a cleaning and checkup.
About Dr. John T. Michaels
Don't Google, "where is a dentist near me?" Choose a trusted choice in the community. Dr. Michaels not only earned his dental degree, but he's also taken over 1000 hours of continuing education courses. He provides advanced services to keep his patients' care in-house. If you need a qualified and trusted dentist, look no further. Contact our office today for an appointment.
Comments Off

on How Often Do I Need to Replace My Toothbrush?
No Comments
No comments yet.
RSS feed for comments on this post.
Sorry, the comment form is closed at this time.