May 12, 2020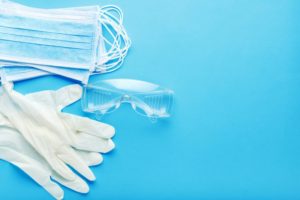 Dental teams are sticklers for safety. Organizations like the CDC and OSHA set high sanitation and hygiene standards for dental practices. During every single one of your appointments, your dentist, hygienist, and assistant have worn PPE (personal protective equipment) such as masks and gloves to keep you safe. In response to the pandemic, dental professionals are taking your health and safety extremely seriously and implementing even more PPE into their daily practices. Read on to learn three ways your dentist in Norwood is using PPE to protect you from the virus.
1.) Face Protection
The N95 masks that your dentist usually wears during your appointments, while effective, simply don't cut it during the pandemic. Dental practitioners are now stepping up to N95 respirators which filter out more than 95% of airborne particles and microorganisms. On top of that, they using face shields and goggles over their masks and respirators as additional barriers to keep both you and them protected from any form of disease transmission.
2.) Surgical Gowns
Airborne particles aren't the only way to contract COVID-19. Research has shown that the virus can survive on different surfaces for hours at a time. To prevent any accidental transmission through touch, dentists and their clinical team members are wearing disposable surgical gowns during your appointment. This helps to ensure that their skin is covered and that any accidental brushes against you will be completely sterile. These gowns are replaced after each appointment to keep patients safe all day long.
3.) Covered Heads & Feet
In addition to face protection and surgical gowns, some clinical teams are going the extra mile and wearing surgical caps and shoe coverings during treatment. This extra step keeps them sterile from head to toe and almost completely negates the possibility of any bacteria being spread to you.
There is nothing more important to your dentist than your safety. Incorporating additional PPE, when combined with proper sanitation and social distancing measures, goes a long way to keep you feeling your best. Don't hesitate to schedule a dental appointment during the pandemic. You'll leave the dental office healthier than when you came in.
About the Author
Dr. John T. Michaels takes pride in bringing his patients to optimal oral health. He understands the importance of a healthy, beautiful smile and knows just how life-changing dentistry can be. Since graduating from the Ohio State University Dental School, he has completed thousands of hours of continuing education in a myriad of dental techniques, from dental implants and cosmetic dentistry to endodontics and orthodontics. He and his team at Norwood Dental Care were voted the region's best dental practice from 2003 to 2017. When you visit the practice, you can be certain that you are in good hands. If you would like to learn more about how Norwood Dental Care is keeping its patients safe from the coronavirus, give them a call at (781) 805-3476 or reach out to them through their website.
Comments Off

on Blocking Out COVID-19: 3 Ways Your Dentist Uses Protective Equipment to Keep You Safe
No Comments
No comments yet.
RSS feed for comments on this post.
Sorry, the comment form is closed at this time.