July 22, 2020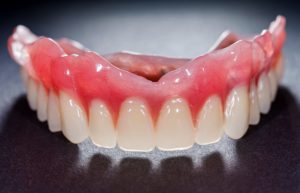 Your teeth are designed to serve you for a lifetime. Unfortunately, despite the latest innovations in dentistry, 35 million Americans have lost all their natural teeth in one or both arches. Traditionally, dentures in Norwood are used to treat significant tooth loss because they are affordable and conveniently. Sadly, they won't last forever. Over time, they won't fit as well as they had in the past. Here are 3 signs your dentures are loose and may need to be replaced.

3 Signs of Poorly Fitting Dentures
Despite their poor reputation for feeling fake, dentures have undergone several advancements in recent years to make them more realistic than ever. State-of-the-art technology is used to create a personalized base to fit your mouth. It rests on top of your gum tissue and is held in place using suction or an adhesive.
After a brief adjustment period, your dentures will closely feel natural in no time at all. Unfortunately, as the years pass, they may not fit as well as they had because your jawbone has been steadily shrinking. As a result, your dentures might be slipping. You may not even be aware of the issue until you experience other complications, including:
1. Gum Damage
Your dentures will experience wear and tear. Although you might believe this is only limited to the crowns of the prosthetic teeth, the gum area can show signs of wear as well. They can thin over time, making them more likely to crack or break. If you notice damage to the base, it's time to call your dentist.
2. Weight Loss
If you've recently lost weight, your gums might have shrunk. Weight loss of 10 pounds or more can cause your dentures to slip. Often, they can be adjusted to restore a secure fit.
3. Broken, Chipped, or Missing Teeth
Dentures are made of durable material, but they can break. Although you can purchase over-the-counter repair kits, it's best to leave fixing them to the professionals. Super glue may fix the broken piece short-term, but it places you at risk of exposure to harmful chemicals. Not to mention, it can cause irreversible damage to your denture.
Ill-fitting dentures can make it difficult to perform simple tasks, like chewing or speaking. In some cases, it can even lead to sores or infections in your mouth. You don't need to put your smile at risk. Your dentist can fix your loose dentures.
Invest in a Long-Term Solution
If your dentures are slipping, your dentist can restore them so you can chew, speak, and smile confidently. If you're interested in a more permanent and stable solution, ask your dentist how you can replace your missing teeth using the security of dental implants.
About Dr. John T. Michaels
Dr. Michaels earned his dental degree from the Ohio State University Dental School and has completed over 1,000 hours in advanced education courses. He offers the latest solutions to treat complex issues, like tooth loss. If you're ready to replace your missing teeth, contact our office today to schedule your consultation.
Comments Off

on 3 Signs Your Dentures May Be Loose
No Comments
No comments yet.
RSS feed for comments on this post.
Sorry, the comment form is closed at this time.