September 2, 2020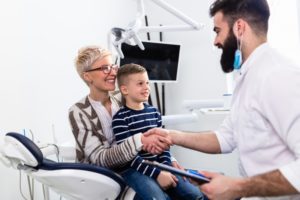 When your family has a busy schedule, it can be difficult to keep up with regular appointments, especially if everyone is seeing a different dental provider. If this is the case for you, it may mean that its time to switch to a family dentist in Norwood. This type of dentist is able to provide care for your entire family and present you with all sorts of benefits. Continue reading to learn the different advantages of choosing a family dentist for your dental care.
Family Dentists Simplify Your Dental Care
From your youngest children to the elderly members of your household, family dentists are able to provide care for everyone. When all of your family members are going to one dentist, it makes scheduling much easier. You may even be able to schedule everyone's appointments together, so you only need to make one trip to the office.
Tracking Your Dental History Is Made Easier
If your kids are jumping from a pediatric dentist to a general dentist, it is necessary to transfer dental history from one practice to another. By sticking to a family dentist, everything is safe in one place and you won't need to be reaching out to different offices in order to get the information that you're needing.
Your Family Will Develop a Personal Relationship
As time goes on, your family's relationship with your dentist will grow stronger because you will have known each other for longer. Not only does this make the experience more comfortable during appointments, but it also makes it easier to express concerns you have about your smile. When younger kids are established with a family dentist early on, they will be less likely to be afraid of the office and develop dental anxiety.
Plenty of Services Are Provided
Family dentists provide all sorts of different services because they are designed to treat patients of all ages. Whether a member of your family is in need of dentures, wants to straighten their teeth, or is looking to enhance their smile with cosmetic options, you can get treated by your dentist in Norwood. Everything you need is in one convenient location.
You Are Setting A Good Example
When your child is seeing the dentist more often, they are watching you prioritize their oral health. If you're setting a good example, they are likely to follow in your footsteps and keep up with good oral hygiene.
You know that your oral health is important which is why it's crucial that you pick the best provider out there. By choosing a family dentist, you can have a dental experience that is more convenient, comfortable, and better for your busy schedule!
About the Author
Dr. John T. Michaels is a family dentist serving patients of all ages at his practice in Norwood, MA. His office has been selected as best practice in the area for 14 years and is a member of multiple professional organizations including the Academy of Cosmetic Dentistry, Massachusetts Dental Society, and the American Dental Society. For more information on family dentistry or to schedule an appointment with Dr. Michaels, visit his website or call (781) 769-6140.
Comments Off

on 5 Benefits of Choosing a Family Dentist
No Comments
No comments yet.
RSS feed for comments on this post.
Sorry, the comment form is closed at this time.