December 30, 2020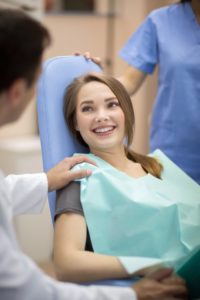 While some people may avoid seeing a dentist in Norwood due to cost or dental anxiety, others may do so because they are afraid of being judged or feeling embarrassed by the condition of their smile. However, it's important to recognize that the last person who should be judging you for your oral health is your dentist, the person who is here to help you achieve positive oral health. To learn why you have nothing to worry about ahead of your next visit, keep reading!
Dentists Treat, Not Judge
Even if you feel worried that you'll be judged for having discolored, broken, or missing teeth, especially if it has happened in your personal life, you can have confidence that all judgement will be checked at the door when you arrive. Dentists are professionals and there job is to help you not only correct problems now, but avoid future ones as well. If you ever come into a situation where you are being judged by a dentist, it's worth looking for another one (and even giving a review of your experience so others know what to expect/avoid.)
They Have Seen Everything Already
Dentists, especially experienced ones, have seen far more severe cases of damaged or imperfect teeth than you could ever imagine. Not only have they seen them in their own office, but they have to complete numerous cases as part of their formal education as well. No matter how poor you may consider your oral health, it's very unlikely to be the worst case the dentist has seen.
Your Problem Could Be Fixed!
There is hope for your smile, no matter how much damage is present. You don't have to settle for a smile that you constantly feel the need to hide. By getting started now, you can begin the process of not just building a smile that's beautiful, but healthy and designed to last for many years. However, that process can only begin if you schedule a visit with a dentist.
Get a Smile You Love
Once you've actually addressed your most pressing oral health concerns, you'll also be able to start thinking about your future smile makeover and what you need to complete to achieve a smile you love showing off!
Any dentist worth their salt is not going to pass judgement on you for dental issues you're struggling with. Their goal is to help you, not hurt your feelings. Start the process today by getting in touch with a caring and highly trained dental professional!
About Norwood Dental Care
Dr. John T. Michaels and Dr. David Michaels have seen it all when it comes to the dental field. Not only are they dedicated to restoring your smile in every single way, but they are prepared to do so without passing judgement on your smile's condition, no matter how imperfect you think it might be. To set up your next appointment, you can contact them through their website.
Comments Off

on Why Poor Oral Health Shouldn't Stop You from Visiting a Dentist
No Comments
No comments yet.
RSS feed for comments on this post.
Sorry, the comment form is closed at this time.