January 4, 2021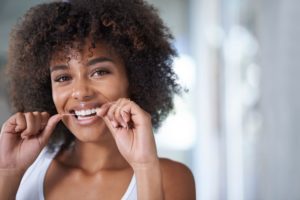 The new year is a perfect time to examine what you're doing to keep yourself healthy. Many people strive to exercise more often or eat more vegetables in the new year. These resolutions can make you healthier overall, but an equally important habit is daily flossing. Even though this task sounds so simple, only about 30 percent of Americans floss every single day. Continue reading to learn about the importance of flossing, as well as some tips from a dentist in Norwood on how to integrate this task into your daily routine.
Why Daily Flossing Is Important
Brushing your teeth twice a day is a great way to clear away food debris and prevent plaque from building up. However, your toothbrush can only clean three out of the five surfaces of your teeth. Without flossing, food particles can get stuck between your teeth and attract bacteria. When an abundance of bacteria builds up in your mouth, they'll release an acidic waste that erodes tooth enamel, creating cavities. This acid can also inflame and infect your gums.
Flossing is the only way to reliably remove food and plaque from between your teeth. Not only can this keep your breath fresh, but you'll also be much less likely to develop tooth decay and gum disease. As a result, you can save money by not having to pay for fillings or gum disease therapy. Spending just a few dollars on floss can end up saving you hundreds of dollars in the long run!
Tips to Help You Remember to Floss Every Day
Life can sometimes make it difficult to remember to floss often enough. However, if you do it often enough for a few weeks, flossing will become second nature before you know it. Here are a few tips to help you incorporate flossing into your nightly routine:
Talk with a friend who also wishes to floss more often. Hold each other accountable by exchanging text reminders every evening.
Set an alarm on your phone every night before bed.
Place a sticky note on your bathroom mirror.
Each morning, set your floss container down on your pillow. That way, you can't get into bed without being reminded to floss.
By getting in the habit of flossing each night, you can enjoy a smile that looks and feels much healthier in 2021 and beyond. For more advice on keeping your smile healthy in 2021, feel free to reach out to your dentist in Norwood!
About the Author
Dr. John T. Michaels can meet the dental needs of patients of all ages at his Norwood, MA practice. He participates in multiple professional organizations, such as American the Academy of Cosmetic Dentistry, the Massachusetts Dental Society, and the American Dental Society. For more information on how to keep your smile in good shape in the new year, visit his website or call (781) 769-6140.
Comments Off

on Why Your 2021 New Year's Resolution Should Be Flossing More Often
No Comments
No comments yet.
RSS feed for comments on this post.
Sorry, the comment form is closed at this time.