June 8, 2021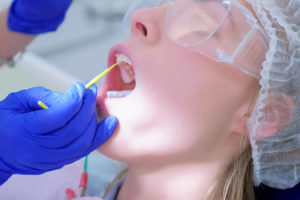 It's a routine dental visit for a cleaning and examination. The dental hygienist has removed the plaque and tartar and polished your teeth. Now, he or she asks if you would like fluoride treatment. What is this exactly, and is it really beneficial? Continue reading to learn about the advantages that fluoride offers so you can enjoy the best oral health possible!
What is Fluoride?
Fluoride is an ionic compound that derives from the element fluorine. About 95% of the fluoride added to public water comes from phosphorite rock. The first discovery of a connection between fluoride and cavity prevention was in the early 1900's, but it wasn't until the 1960's that municipalities started adding fluoride to their water supplies.
How Does Fluoride Prevent Cavities?
Fluoride helps to prevent cavities by binding to the tooth enamel, which is the hard-outer layer. It's primarily made of hydroxyapatite, a crystal composed of calcium, phosphorous, hydrogen and oxygen. Through a chemical reaction, fluoride replaces the hydroxyl molecule on hydroxyapatite to make the tooth more resistant to the acids released by oral bacteria.
The discovery of fluoride has been a game changer for dental and overall health, as it helps to prevent decay. Untreated tooth decay can lead to tooth loss, gum disease and oral cancer. To make matters worse, a severe tooth infection doesn't stop in the mouth. Over time, it can travel to other parts of the body to cause complex health issues.
How Fluoride Treatment Works
Because the dentist and hygienist are able to get a full view of your teeth and gums, they will make recommendations based on the condition of your oral health. In most cases, the suggested frequency for fluoride treatment is every six to 12 months.
Here's what the treatment usually entails:
The hygienist will apply fluoride in the form of gel, foam or varnish.
You'll hold the solution in your mouth for a few minutes.
After the treatment is applied, you'll be instructed not to eat or drink for at least 30 minutes.
If there's one thing that all dentists agree on, it's that prevention is the best form of treatment. By taking a proactive approach to your oral health, which includes maintaining semi-annual dental visits, brushing and flossing at least two times a day and monitoring your sugar intake, you can look forward to a healthy and strong set of teeth for many years to come!
About the Author
Dr. John T. Michaels earned his dental degree from The Ohio State University College of Dentistry. Throughout his career, he has taken over 1,000 hours of continuing education in a host of treatment areas. Additionally, Dr. Michaels maintains membership with the Norfolk County Dental Society, Massachusetts Dental Society and other professional organizations. He helps his patients experience the absolute best in oral health at Norwood Dental Care, which has been voted the region's best dental practice from 2003 to 2017. Dr. Michaels can be reached for more information or to schedule a visit through his website.
Comments Off

on Can Fluoride Treatment from Your Dentist be Beneficial?
No Comments
No comments yet.
RSS feed for comments on this post.
Sorry, the comment form is closed at this time.