August 20, 2021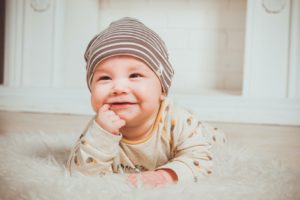 The first line of defense against preventable oral health issues begins at home; however, brushing and flossing aren't enough. The American Dental Association recommends a cleaning and checkup at least twice a year. Did you know this includes children, too? You might believe they don't need an appointment until they have their permanent teeth, but this is untrue. In fact, your child should see a dentist for the first time before they turn 1-year-old. Don't fret, here's what you can expect during children's first dental visit.
Importance of Early Dental Care
While the primary teeth are only in place for a few short years, they are invaluable to your child's oral health and development. Problems with the baby teeth can lead to permanent complications for their oral health. Early dental care allows their dentist to monitor their growing smile to detect any potential concerns early. With quick intervention, it lessens the likeliness of needing a lengthy or costly treatment in the future. Not to mention, your child will develop a trusted relationship with their dental team for stress-free appointments. They'll understand the importance of their oral health for a lifelong commitment to their smile.
First Dental Appointments
Young babies and toddlers can be a bit wiggly, so your dentist may ask you to sit with them in your lap to help keep them still while also comforting them. When your child is relaxed, your dentist will glance in their mouth to look at their gums, teeth, and jaw. If possible, the dental hygienist will perform a quick cleaning. Although it may not seem like much is done during their initial visit, it sets the groundwork for their future appointments.
Your child will be accustomed to going to the dentist, which will make it easier for their dental team to perform cleanings, take x-rays, and conduct more thorough examinations as they age. Taking things slowly will encourage your child to look forward to their routine dental appointments.
Preparing for Their First Visit
Visiting a new place can be scary for any child, but you can help calm their nerves by taking the time to talk to them about what they can expect. Keep the conversation positive and avoid discussing any past painful or uncomfortable personal experiences. Highlight the benefits of a healthy smile by reading books and watching videos together about dental health.
Your dentist may require new patient forms prior to their appointment. Be sure to have them completed and your dental insurance information handy on the day of their visit. If you have any questions, don't hesitate to contact your dentist for more information about their upcoming cleaning and checkup.
About Dr. John T. Michaels
Dr. Michaels earned his dental degree at the Ohio State University of Dental Medicine. He has regularly continued his education in many advanced specialties, including orthodontics, periodontics, and endodontics. He provides modern care for patients of all ages, including children. If it's time for your child's first dental visit, contact our office today to schedule an appointment.
Comments Off

on What to Expect During Your Child's First Dental Appointment?
No Comments
No comments yet.
RSS feed for comments on this post.
Sorry, the comment form is closed at this time.