May 13, 2022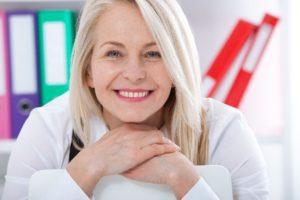 Your teeth are designed to last your lifetime, but that's not a reality for many Americans. The Centers for Disease Control and Prevention estimates that 13% of Americans between the ages of 65 to 74 have lost all their teeth. Whether you're only missing one tooth, several teeth, or both arches, you can benefit from the next best thing to your natural smile with dental implants. However, with age comes certain health concerns, like bone loss after menopause. Don't worry, your dentist has the solutions you need to turn the clock back on your smile.
Bone Density and Dental Implants
A dental implant is unique because it is the only method of replicating both the root and crown. A titanium post is surgically inserted into the jawbone to mimic a root. An abutment is attached to the post to connect a custom-made restoration. Dental implants can last for 30 years or longer with the right foundation and aftercare.
The overall success of the procedure relies on a strong jawbone. Patients who have had missing teeth for many years often have low bone density. The jaw shrinks when it isn't being stimulated by all the tooth roots. Unfortunately, prior missing teeth isn't the only cause of bone loss. Post-menopausal women are prone to low bone density.
Menopause and Bone Loss
Menopause is an important milestone in a woman's life because it marks the end of her reproductive cycle. As the ovaries stop releasing eggs, levels of the female hormone estrogen decrease. Since the hormone influences bone health, older women have an increased risk of osteoporosis. Not only can this lead to complications with existing dental implants but the placement of new ones, too.
Getting Dental Implants After Menopause
If you've experienced bone loss, you can still replace your missing teeth with dental implants. After reviewing a CT scan of your mouth and your medical history, your implant dentist will create a personalized treatment plan to restore your smile. You may require bone grafting before your placement surgery to ensure your jawbone can support the posts. The procedure can also be used to repair any areas of weakened bone in women with dental implants already.
You can lessen your risk of dental implant failure by maintaining a healthy lifestyle. It's best to limit anything that can increase your risk of complications, like smoking or drinking alcohol excessively. With a solid oral hygiene routine, a healthy diet, and regular care from a dentist, your dental implants can thrive for decades.
Don't let age stand in your way of a complete smile because you're never too old for dental implants. Whether you're premenopausal or have reached the end of your reproductive journey, dental implants are possible.
About Dr. John T. Michaels
Dr. Michaels earned his dental degree from the Ohio State University Dental School and has completed thousands of hours of continuing education. He has the qualifications to perform advanced procedures, like dental implants. If you're ready to replace your missing teeth, contact our office today to request your consultation.
Comments Off

on Are Dental Implants After Menopause Possible?
No Comments
No comments yet.
RSS feed for comments on this post.
Sorry, the comment form is closed at this time.