September 6, 2022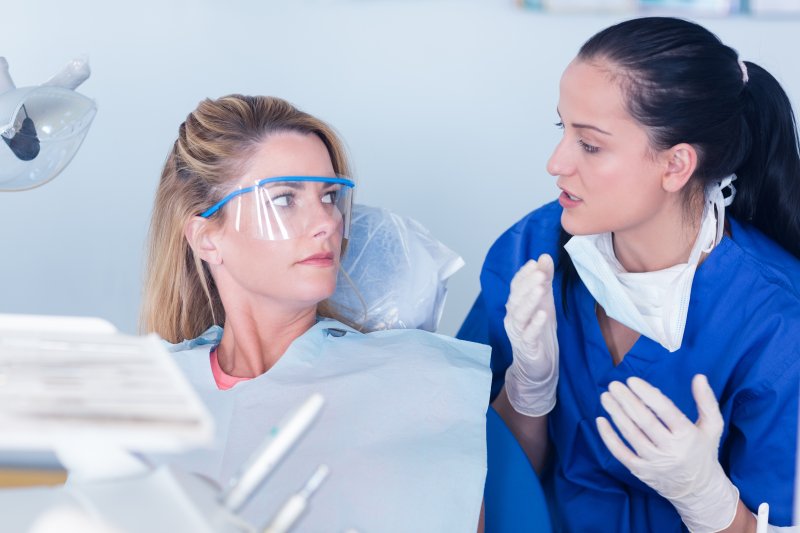 Veneers are a popular cosmetic treatment that can correct stains, cracks, chips, misshapen teeth, alignment issues, and gaps. These thin shells are made from dental-grade porcelain. A small amount of tooth enamel has to be removed for the veneers to adhere properly. Since enamel is meant to protect your smile, you may be wondering if this will result in increased dental sensitivity. Read on to learn the answer to this question and how to relieve sensitive teeth.
Will Veneers Cause Sensitive Teeth?
During the veneer procedure, about half a millimeter of enamel is removed. This is approximately as thick as the veneer itself, meaning your smile won't look bulky. Enamel is the protective outer layer of the tooth. When it's damaged, this can lead to dental health issues like cavities and increased sensitivity. This may make you wonder if having some enamel removed will make your teeth more sensitive.
Just like with any other dental treatment, you should be ready to experience some sensitivity after the procedure. This is completely normal and will last anywhere from several days to several weeks. Some patients also experience little to no sensitivity. If it lasts for more than two months, contact your dentist so they can figure out what the problem is.
3 Ways to Relieve Tooth Sensitivity After getting Veneers
Since veneers cover the entire front part of a tooth, they may actually help prevent sensitivity. This is because they will prevent harmful bacteria from getting into the teeth and will also create a barrier that protects them from hot and cold foods and beverages. Even so, if you're experiencing some mild sensitivity after, a few ways you can lessen it include:
Brush your teeth – When brushing, be sure to use a soft-bristled toothbrush. This will lessen your chances of scratching your tooth enamel or your veneers. Do this after every meal to lessen sensitivity.
Desensitizing toothpaste – This type of toothpaste blocks the pain signals from traveling from the surface of the teeth. It also blocks the sensory nerves in them, which lessens discomfort.
Salt water rinse – Make a salt water mixture by mixing half a teaspoon of salt into a cup of lukewarm water. Gargling with the mixture twice daily will help alleviate pain as well as reduce inflammation.
Veneers may temporarily result in sensitive teeth, but the sensation shouldn't last long. Before you know it, you'll be enjoying your new smile to the fullest!
About the Practice
Norwood Dental Care is led by Drs. John T. Michaels and David Michaels. They treat patients with a wide range of exceptional oral health treatments. If your teeth have cosmetic flaws, they offer porcelain veneers to give you lifelike, gorgeous results. They can also help you treat any mild sensitivity you feel after the procedure has been completed. Do you want to learn more about veneers and sensitive teeth or are you interested in making an appointment with Norwood Dental Care? If so, you can visit their website or call their office at (781) 769-6140 to start your smile journey.
Comments Off

on Will Getting Veneers Result in Sensitive Teeth?
No Comments
No comments yet.
RSS feed for comments on this post.
Sorry, the comment form is closed at this time.