September 10, 2022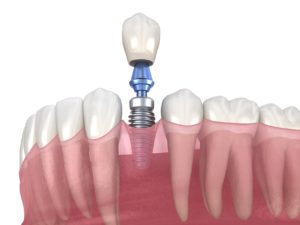 500,000 people each year are opting for an alternative to bridges and dentures. Dental implants are the most reliable method of treating tooth loss. As the only treatment to replicate the roots and crowns, they provide a nearly perfect replica of real teeth. They have over a 95% success rate and are proven to last for decades. Although many people believe they are a new treatment, forms of dental implants can be found throughout history. The evolution of dental implants paved the way to become the preferred solution for missing teeth, and here's how.
Early Dental Implants
Examples of early dental implants date back thousands of years. Archaeologists have found evidence of the ancient Mayans using foreign materials to replicate lost teeth, like seashells and stones. Many were placed after death, as the process would have been excruciating without dental sedation.
Over the centuries, early dental implants began to emerge around the world. From using human and animal teeth to wooden or natural materials, many civilizations tried their hands at dental implants.
The most significant modern advancement occurred in 1950, after a Swedish surgeon discovered the benefits of titanium. He found that titanium can form a direct bond with living tissue. After confirming the metal could fuse with bone using the legs of rabbits, titanium has been the standard material for dental implants. When inserted into the jaw to serve as a root, the bone integrates with it through a process called osseointegration, allowing it to potentially stay in place for a lifetime.
Technological Advancements
Besides changes to the materials, technological advancements have enhanced the success of dental implants. State-of-the-art imaging technology allows dentists to see every detail of the oral structures. As a result, they can use high-quality images throughout the consultation, planning, and placement of dental implants. This helps take the guesswork out of the process and minimizes any room for error to promote the success of the procedure.
Elite technology isn't the only improvement that's occurred during the last few decades. Implant posts have also undergone some upgrades, like a special coating to reduce bacteria growth. They also have roughened surfaces to promote better fusion with bone.
Invest in a Proven Solution
People from all walks of life are choosing dental implants to replace their missing teeth because they offer unmatched benefits, including:
Look and feel natural
Restore 70% of biting force
Stops bone loss in the jaw
Improves oral health
Lifespan of 30 years or more
Easy maintenance and care
Cost-effective solution
If you're ready to invest in a complete, beautiful smile, contact your dentist to see if dental implants are right for you.
About Dr. David Michaels
Dr. Michaels achieved his dental degree at the Tufts University School of Dental Medicine and regularly completes continuing education to provide advanced services, like dental implants. As a top-rated and award-winning dentist, he has the experience and a reputation you can trust. Contact our office today to request your consultation for dental implants.
Comments Off

on Discover the Evolution of Dental Implants
No Comments
No comments yet.
RSS feed for comments on this post.
Sorry, the comment form is closed at this time.