December 17, 2019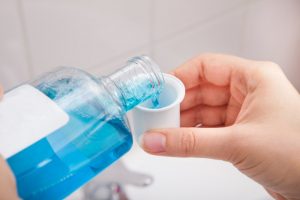 You chose your toothbrush because you prefer electric over manual. You chose your floss because it's smooth and tastes like mint. These decisions were fairly easy for you to make. But is it just as easy to select a mouth rinse? Read this guide on what mouthwash to use in Norwood, and what qualities you need to look for.
Fights Bad Breath
Bad breath is caused by oral bacteria, especially when they feast on leftover food particles. They leave behind foul-smelling waste that's also destructive to the teeth and gums. One way to combat this, besides brushing and flossing, is to rinse with an antimicrobial mouthwash that inhibits the growth of these bacteria. Mouthwash also works to reduce accumulation of plaque on your teeth that also contributes to bad breath.
Strengthens Your Teeth
You might already be getting fluoride from your toothpaste and drinking water, but a little extra could definitely be beneficial. Fluoride fortifies your tooth enamel and makes the teeth stronger in the battle against decay. It also has been shown to reduce tooth sensitivity.
Alcohol-Free
Alcohol dries out your mouth. When you don't have an adequate supply of saliva, food debris remains in your mouth for longer, giving bacteria ample time to feast on it. This drastically increases your risk of developing gum disease and cavities. Make sure to choose a mouthwash that's full of fluoride but does not contain alcohol.
How Often Should You Use Mouthwash?
Ideally, you should rinse with mouthwash every morning and evening as part of your oral hygiene routine. In general, they should be used after brushing. They can be used before or after flossing. Although, you should probably floss before brushing and not after. This is because flossing opens up the spaces between the teeth to receive the fluoride from your toothpaste and mouthwash.
Choosing the right mouthwash involves a lot more than just adding the cheapest one on the shelf to your cart. Keep these tips in mind the next time you're in the dental aisle of your grocery store or pharmacy. Your teeth and gums will thank you!
About the Author
Dr. John Michaels obtained his doctorate from Ohio State University's Dental School. He has taken well over 1000 hours of post-graduate education courses in areas like cosmetic dentistry, implants, and orthodontics. Because of this, he is able to provide a wide variety of services under one roof, including giving advice on what mouthwash to use in Norwood, MA. For more oral hygiene tips, contact his practice, Norwood Dental Care, at (781) 769-6140.
Comments Off

on How to Choose the Right Mouthwash
No Comments
No comments yet.
RSS feed for comments on this post.
Sorry, the comment form is closed at this time.