February 7, 2020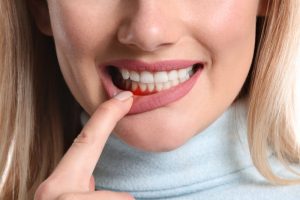 Recent studies suggest that up to 80% of Americans have gum disease—do you? This incredibly common condition starts out as a small infection in the gum tissue, which is known as gingivitis. However, if it's left untreated, it can evolve into periodontitis and cause tooth loss as well as other serious health conditions. Thankfully, you can easily fight off and even completely reverse early symptoms of gum disease from your own home! Here are eight easy remedies to help you combat gingivitis and prevent gum disease in Norwood.
1. Use Your Dental Floss
Experts believe that toothbrushing only removes about 60% of plaque and bacteria from your mouth. The other 40% that are hiding closest to your gums can only be cleared out with dental floss, which can clean between your teeth and just underneath your gumline.
2. Buy a Specialized Mouthwash
They may all look similar, but not all mouthwashes are the same. Try using a gingivitis-specific or antiseptic mouthwash to keep the levels of bacteria in your mouth in check.
3. Rinse Your Mouth with Saltwater
Salt is a natural disinfectant. Swishing around a glass of lukewarm water that contains a half teaspoon of salt can help your body fight off gum disease, as well as soothe your inflamed gums and ease discomfort.
4. Apply Topical Solutions
Do you have turmeric or cloves in your spice cabinet? Some experts believe that applying these ingredients directly to your gum tissue can keep it healthy. They contain antiviral, antioxidant, and anti-inflammatory properties that promote healing and hinder plaque buildup.
5. Try Oil-Pulling
Oil pulling is a technique that relies on the natural compounds found in certain oils to reduce gum disease. Swishing a few teaspoons of coconut or arimedadi oil around in your mouth for 20-30 minutes can eliminate toxins from your gums.
6. Create Your Own Mouthwash
Home-made mouthwashes can easily be created by adding crushed sage, guava, or aloe vera leaves to a glass of water. Alternatively, you can add a few drops of lemongrass or tea tree oil. These all have natural compounds that treat various symptoms of gum disease—just be sure not to swallow them!
7. Quit Tobacco Products
Smoking or chewing tobacco lowers your immune system. This leaves your gum tissue more susceptible to infection and unable to heal quickly or effectively. Research suggests that the use of tobacco products can increase your risk of gum disease by up to six times.
8. Get a Dental Checkup Twice a Year
The best way to keep your gums happy and healthy is to prevent gum disease from developing in the first place. Visiting your dentist twice a year can help keep dangerous bacteria in your mouth at bay, as well as identify any signs of gum disease as early as possible. With regular dental checkups and cleanings, you won't have to worry about treating gum disease on your own.
About the Author
For nearly 30 years, Dr. John T. Michaels of Norwood Dental Care has been keeping smiles happy and gums healthy in Norwood, MA and the surrounding communities. At your routine dental checkup every six months, he carefully inspects your mouth for any early warning signs of gum disease. Based on what he finds, he can help you create a practical preventive plan to keep your smile healthy or recommend a gum disease treatment to get your oral health back on track. If you're concerned about gum disease, feel free to contact him via his website or at (781) 769-6140.
Comments Off

on 8 Easy Remedies to Combat Gingivitis at Home
No Comments
No comments yet.
RSS feed for comments on this post.
Sorry, the comment form is closed at this time.