April 20, 2020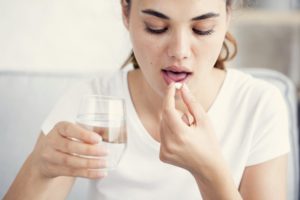 You've been diligently following all the social distancing protocols that have been in effect due to COVID-19. Suddenly you feel an intense pain in your mouth. To your dismay, you think you might have an infection in one of your teeth. Should you call your emergency dentist in Norwood? Is it safe? Absolutely. Dental offices are one of the cleanest places you could be. Not to mention, you're likely going to need antibiotics to treat that infected tooth. Keep reading to learn more about antibiotics for tooth infections.
Why Are Tooth Infections Treated with Antibiotics?
Any infection in the head or neck, including one in your tooth, should be taken incredibly seriously. This is because there is a risk that the infection could spread to your brain, threatening your life. Since tooth infections – especially bacterial ones – are unlikely to go away on their own, your body needs some help fighting it off. That's where antibiotics come in.
How Long Should I Take Antibiotics for a Tooth Infection?
Antibiotics are typically prescribed for about a week. Depending on the type and dosage of your antibiotic, this may vary by a few days. You might have to take your pills anywhere from one to four times daily.
The most important thing to remember when it comes to taking antibiotics is to finish the pills. Even if your tooth starts to feel normal again, it's critical that you take all of the medication that you were prescribed. Otherwise, the infection could come back with a vengeance.
Do I Always Need Antibiotics for a Tooth Infection?
In some cases, you might not need to take any medication to remove the infection. This is often the case when your dentist in Norwood decides that root canal therapy is the best choice of treatment. During a root canal, which is about as "painful" as getting a filling, your dentist removes the infected pulp (inside portion) of your tooth and replaced it with a synthetic material. Alternatively, the infection can often be removed by extracting the tooth altogether if necessary.
How Do I Know If I Have a Tooth Infection?
If you suspect that one or more of your teeth is infected, it's imperative that you call your dentist right away. Some of the most common signs of an oral infection are:
Dark discoloration of the tooth or surrounding gums
Pain when chewing or applying pressure to the tooth
Prolonged sensitivity to hot or cold food and drinks
Throbbing pain in a tooth
Swollen gums or gums that are leaking pus
High fever
Persistently foul breath
Swollen jaw or lymph nodes
Jaw pain
If you are experiencing any of the symptoms listed above, contact your emergency dentist in Norwood as soon as you can. They will likely prescribe you antibiotics. Remember to finish your entire dose in order to completely eradicate the infection and get you out of pain.
About the Author
Dr. John T. Michaels earned his doctorate from the Ohio State University dental school. Throughout his career, he has taken more than 1000 hours of continuing education courses in various areas of dentistry, such as endodontics (root canals) and treating oral infections. Currently, his practice is only treating dental emergencies. If you have a sudden toothache that you think might be the result of an infection, contact Dr. Michaels' office at (781) 769-6140.
Comments Off

on What You Need to Know About Antibiotics for a Tooth Infection
No Comments
No comments yet.
RSS feed for comments on this post.
Sorry, the comment form is closed at this time.