May 4, 2023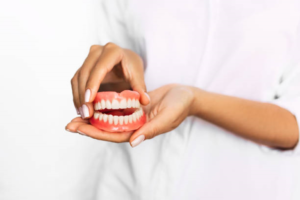 Dentures have assisted countless patients with missing teeth, allowing them to enjoy a fully functional and natural-looking set of teeth once more. They're one of the most popular tooth restorations around, due mostly to their accessibility and ease of use. However, did you know that you aren't supposed to wear them 24/7, even though they're meant to replace your natural teeth? Here's more about why this is, along with some of the problems that can occur if you do—and some tips for keeping your restoration fully functional.
Dentures Shouldn't Be Worn 24/7; Here's Why
When you first get dentures, you'll be asked to wear them most of the time for the first few days, even when asleep, to become accustomed to wearing them. But after this adjustment period, you will need to begin limiting your wear time, ideally removing them for around 8 hours every day.
The bottom line is that dentures shouldn't be worn all of the time, but rather, most of the time. Serious complications can arise if you wear your dentures too often, including:
Wearing dentures too often creates a favorable environment for bacteria to spawn underneath them in addition to irritating the gums.
A condition called stomatitis can develop, which is characterized by inflammation and a burning sensation. It weakens the body's immune system too, increasing your chances of getting ill.
Since dentures apply pressure to the gum tissues and bone ridges that support them, it can actually accelerate bone resorption, which leads to reduced bone density.
It's also worth noting that if you're wearing your dentures all the time, they're never being taken out to clean—which can accelerate oral health issues!
Tips for Keeping Your Dentures Looking & Feeling Great
Taking great care of your dentures is the secret to ensuring that they last for as long as possible! Here are some tips to help you with this:
Remove your dentures when you go to bed to give your gums a chance to rest from wearing them throughout the day.
Soak your dentures as often as needed in a dedicated cleaning solution, ideally when you take them out to sleep.
Brush the surfaces of your dentures daily to keep them from accumulating plaque and tartar.
Visit your dentist as necessary for adjustments and regular inspection.
By knowing how often you should wear your dentures and by taking great care of them, you can ensure that they serve you well and allow you to eat, smile, and laugh with ease!
About the Practice
The team at Norwood Dental Care is honored to bring an exceptional level of dental care to families in the Norwood, MA community. Under the leadership of Dr. John T. Michaels and Dr. David Michaels, they're proud to offer a wide range of services including restorative options like dentures. If you have any questions about the blog or you'd like to arrange a visit for you or a loved one, feel free to contact the practice online or by phone for further assistance. Telephone: (781) 769-6140.
Comments Off

on How Often Should I Be Wearing My Dentures?
No Comments
No comments yet.
RSS feed for comments on this post.
Sorry, the comment form is closed at this time.